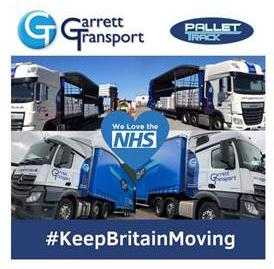 Garrett Transport are proud to be supporting the national effort by helping our clients to keep Britain moving safely and compliantly during the current COVID-19 crisis, we're proud to have recently delivered high level disinfection wipes bound for the NHS.
In this time of national crisis, Garrett Transport have modified our procedures to safeguard our employees and customers health, and strictly follows the guidelines for essential services published by the government.
We would also like to offer our support and appreciation of all the other essential workers helping to keep everyone safe, from the glorious NHS through and Care Home Workers to all the other support staff that are helping to keep Britain moving.
We'll all get back to normal soon but in the meantime we're here to help as much as possible.